Sound and video installation, 8.28 min
4.0 sound – Helena Persson
Video – Petra Johansson and Neta Norrmo
2013
This sound art and video piece is dedicated to Ester Henning. Ester Henning was institutionalized for more than 60 years, and was never really accepted as an artist. After her death her embroidery works were donated to the Art Museum of Skövde. Inspired by Ester's artistry, we have been working carefully to add our sounds and visions to her exhibited embroidery works.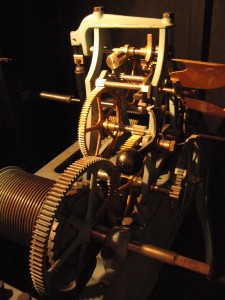 One characteristic and central sound at Säter, one of the institutions where she spent eight of her many years at different hospitals, was the large clock that framed every minute and hour of her day through its endless ticking. The same clock is part of the sound art piece along with other recordings; raindrops dripping from the attic where she made many of her needleworks and the surroundings that enclosed her and the other patients at the hospital that is now a museum.
The installation is running as part of the exhibition about Ester. Most welcome to Skövde Art Museum!
The sound installation run indepedently but in the visual field of the video projection.
Sound: Helena Persson
Video: Petra Johansson and Neta Norrmo
Text from the exhibition:
BRODERIER och LJUDBILDER
Ester Henning 29 år med konstnärsambitioner. Schitzofren.
Solberga, Säter, Beckomberga, Långbro.
Inlåst och förbjuden; färg, tråd, lera.
Tillstucken tråden. I rörelse. Stygn av sinnestillstånd.
Trasor, lakan, örngott. Hoprafsade band och trådar. Knappar. Nålar.
Gömma undan. Passa på. Förbud.
Fyra hus. Fyra träd. Fyra hörn att gå emellan.
Ett litet rum på vinden. Ett eget rum.
Regnet på taket i detta rum, just i detta rum.  Just Säter.
Regnet. Stanna. Stillna. Egen tid. Droppa. Sippra. Forsa.
Klockan går idag som då.
Tiden. Schema. Arbetspass. Utegång.
Sova. Vakna. Nycklar.
Raka linjer. Stärkta lakan. Sträckta lakan.
Promenad runt runt.
Insulinsprutornas glansigt blommiga ansikten.
Sängar, slangar, spännrem.
Munnar. Armbågar. Lukt.  Tätt. Trångt.
Fläckigt. Fransigt.
Osnygg. Orolig eller stormig.
Petra Johansson           Curator och filmare
Neta Norrmo                  Curator och filmare
Helena Persson             Ljudkonstnär