April 3 2016, "Meetings im Ausland"  – Laurna Røde invited Ben Lauber to be our dear guest on electronics! The consert was supported by Konstnärsnämnden.

June 13, 2015, Gradation 2.0 – the second Gradation made by Anna Melander and Helena Persson was improvised at Bio Roxy in Örebro at a festival arranged by Musikspektra T, an association for electronic and electro acoustic music. Anna Melander –  flutes, Helena Persson, EBows and additional materials on electric and acoustic guitars. Listen to Gradation 2.0
Aug 19—24, 2014, Laurna Røde will be touring with Ragnheiður Sigurðardóttir Bjarnarson in Iceland! Tour dates are available on the Laurna Røde page. Here, on this page you find live performances in various expressions and collaborations, including Laurna Røde, one of the ongoing projects, along with other works of more occasional character.
Aug 31, 2013, Laurna Røde at Voices from the Waters Film Festival, Frilagret at Lagerhuset, Göteborg.
June 23, 2013, David Sabel and I played with The Ikebana Contemporary Company lead by the director and choreographer Valentina Pomari. In this collaboration we performed Phobos in Via dei Fiori at Teatro Ristori, Verona, Italy.
June 20, 2013, Performance with David Sabel and dancers from the MOD Dance Academy, Ikebana Contemporary Company, Verona. The concert was the opening for the Italian designer Lamberto Petri at the Fashion Fair, Florence, Italy.
May 9 and 11, 2013, sound installation and live performance with four steel stringed acoustic guitars played with four EBows along with soundscapes. Performed by David Sabel and Helena Persson, at Verona Risuona festival, Verona, Italy. Read more about Laurna Røde!
March 23, 2013, Libration, Textival at Kristallbaren, Stora Teatern. A collaboration between butoh dancer and choreographer Frauke and Helena Persson.
The piece is a 16 minutes and 30 seconds long elaboration of sound and choreography, processed during 7 hectic days at Sockerbruket, made for this special occasion.
Read more about Libration!
Libration from Helena Persson on Vimeo.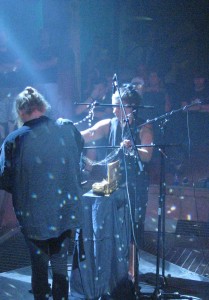 July 27, 2012, live performance with Siri Mandolini, Norbergfestivalen. The picture is taken in the mine of Mimer. The fragile and subtle sounds from bracelets and necklaces are unprocessed and picked up by four microphones.
Photo: Palle Dahlstedt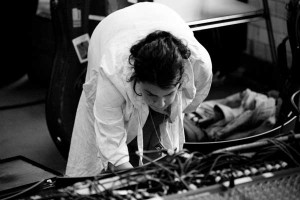 July 16, 2011, live performance with The Aachen String Theory, Energeticon, Aachen, Germany. The concert was recorded and resulted in a record release. Listen to the track!
May 22, 2011, Live Performance Brösarp, Ljudmatiné at Atalante, Göteborg
Listen to a sound scape made by Brösarp