Sound installation
Eight channels, distributed as four stereo tracks, diverse duration
2014
On Sparse Ground is a multi-channeled sound art piece made especially for Turnul Chindiei, June 16—21, at the BABEL International Performing Arts Festival, Târgoviște, Romania.  Turnul Chindiei is a tower built in 15th centrury, under the reign of Vlad Ţepeş, also known as Vlad III Dracul. The tower and the winding stairs of its three floors were explored sonically, under the impact of a sparse landmass from the north of Sweden. The recordings for the piece took place during three days and includes encounters with reindeers at the island Fårön, just outside of Piteå, and the surroundings by the water Härtsöträsk, close to Luleå.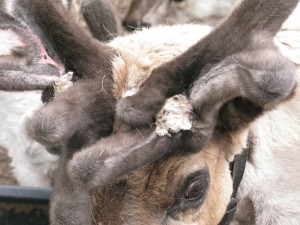 "I had been expecting a sparse landmass up north in Sweden, but a much more vivid material was confronting me. Standing in the grass of a forest glade, a herd of reindeers came towards me from the woods. Prominent in this meeting was an intense sound of bells and an audible clicking, along with the pace and energy of the reindeers movements; curious, stumbling and striving all at the same time. From the surrounding atmosphere, sometimes associated with an "emptiness" or a "nothing", a spectrum of density emerged."
The result of these three days of recording was one stereo track for each floor (three in total) of the tower and an additional one for the top floor which was twice the height. From one floor you where able to overhear another as part of the composition. Each floor and stereo track has diverse lengths to achieve an ongoing and endless process.
Read the program. Read about On Sparse Ground in the program.
Technical information:
8 speakers
4 stereo tracks, 1 for each floor (2 stereo tracks in 2 levels for the top floor)