8 audio visual installations
by Helena Persson and Neta Norrmo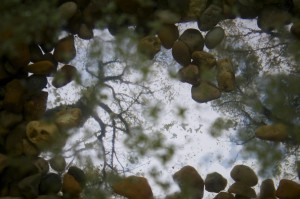 Sounds from and beyond the garden
Listen to the garden at all levels from without and within
In this exhibition you hear the garden and those working in it. It's about boundaries. Those we base our lives on and those we only divine. It's about control and wildness.
The audiovisual presentations in this exhibition aim to arouse your feelings for the life and sounds in the garden, through time and space, minor as well as majestic. They stimulate us to reinterpret reality and its infinite spaces.
We spent a year making field recordings in Sweden, from north to south, focusing on sounds, voices, and film. The participants were: Wafaa Ghonaim, Annika Gry, Mia Gröndahl, Maryam Hajj Hassan, Nura Jusu- fovic, Anders Jönsson, Pasi Karjalainen, Erika Lindh, Mariana Mattsson, Hannu Sarenström, Reginald Scholz, Soniya Sjöberg, Sanna Töringe, Elin Unnes, Obilot Zeuschel.
My collaborator Neta Norrmo is a film-maker and cultural journalist, prize-winner for her film Women on Walls, represented at the Jönköping County Museum and at the Skövde Art Museum.
Here is an experpt from one of the eight audio visual pieces – SKIKT – documented from the exhibition. SKIKT is a sonic window telling peoples stories about their relation to the subterrestrial and the aboveground earth.
SKIKT dokumentation from Helena Persson on Vimeo.
The following three pictures shows the sound installation Förlopp (Currents), where speakers where integrated in blocks of turf, hanging from the ceiling and on the walls. 6 channels, 10 min 11 sek looped sound.
Material from bogs and quagmires that appears in the man made and structural reality of gardens. The old becomes new, bace becomes acid and earth becomes heaven.
Narcissistisk natur (Narcissistic Nature) is an aquarium caoted with plants, hanging from the ceiling. When you look into it from the top, a film emerges through the water and from the bottom of the aquarium.
HANDENS VERK is a stereo piece integrated in the vegetation outside the building. In the plant on the left hand of the entrence, you hear the sound that blends with its surroundings and the people that exists in it.
The cultivating hand chooses its tool carefully. It realises, limits and performs ideas and visions of the position of the plants in the soil that surrounds it.
Here you can listen to the track as wav file on Soundcloud or as mp3: