Sound installation, 9.59 min
Sound recording – Helena Persson
Sound editing –  Ellinor Westin and Helena Persson
2005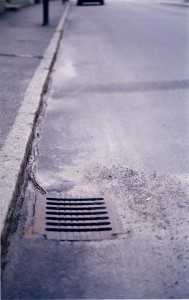 Join (together) is a composition of sounds from the geothermal activity of geysers and hot springs, recorded in Iceland 2003. Together with Ellinor Westin a process began which resulted in a 9,59 minutes long composition. Two loud speakers are put in a street well along with the looped sound.
The installation explores the sound as means to change the environment we pass through. The well symbolizes a room in our daily lives that we do not know, but at the same time it tickles our imagination.
In 2008 Ellinor sadly passed away. As a memory of Ellinor, the installation continues to be exhibited in more parts of the world.
Listen to Join (together)
The installation has been exhibited in:
Göteborg (Sweden),2005
Värnamo (Sweden), 2005
Tórshavn (Faroe Islands), 2009
Alsdorf (Germany), 2011.