Laurna Røde carves out a soundscape from silence and chaos.
Video from Atalante where we surprisingly played in darkness most of the time!

131115 | Laurna Røde from Atalante on Vimeo.
With electric and acoustic guitars, EBows and field recordings we create atmospheres and sonic scenes – a fully acoustic drone music hovering between consonance and dissonance. The extended sounds in combination with minimal movements is an intense and at the same time peaceful sound experience where frequencies and harmonies are in focus. We started playing together at the festival Verona Risuona in April 2013 and have so far been playing at festivals, theaters, art spaces and fashion shows in Italy, Sweden, Norway and Iceland. During the summer of 2014 Laurna Røde had the great pleasure of touring around Iceland with Ragnheiður Sigurðardóttir Bjarnarson. We took a break during 2015 but had a great new beginning in April 3, 2016, playing in Berlin with the german composer and musician Ben Lauber. Laurna Røde is David Sabel and Helena Persson.
Pics from Berlin April 2016.

Aug 31, 2013, Voices from the Waters Film Festival, Frilagret at Lagerhuset, Göteborg.
Listen to a recording of the whole performance Laurna Røde live at Voices from the Waters
June 23, 2013, David Sabel and I played with The Ikebana Contemporary Company lead by the director and choreographer Valentina Pomari. In this collaboration we performed Phobos in Via dei Fiori at Teatro Ristori, Verona, Italy. Costumes Lamberto Petri, music and sounds David Sabel and Helena Persson. The dancers were improvising to 3 steel stringed acoustic guitars and 1 electric guitar played with 4 ebows along with soundscapes.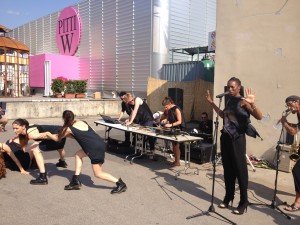 June 20, 2013, Performance with David Sabel and dancers from the MOD Dance Academy, Ikebana Contemporary Company, Verona. The concert was the opening for the Italian designerLamberto Petri at the Fashion Fair, Florence, Italy.
Photo: Miriam Widell
May 9 and 11, 2013, Sound installation and live performance with 4 steel stringed acoustic guitars played with 4 ebows along with soundscapes. Performed by David Sabel and Helena Persson, at Verona Risuona festival, Verona, Italy.
Video from the performance in Verona at the Verona Risuona Festival, 2013.