When I play live music and improvisations they are performed in a number of constellations, forms and played on different instruments and objects. I come from a music background where my voice was in focus and with jazz and afro american music as the starting point. Later when I got deeper into exporing sound, my musical practice also changed into improvisations, playing with dissonances and vibrancy, field recordings and exploring my voice in new directions.
Here you can read more about some of the projects that I am involved in:
The Great Learning Orchestra – a network of about hundred musicians who explores music and listening.
Laurna Røde – E-Bow improvisation duo with David Sabel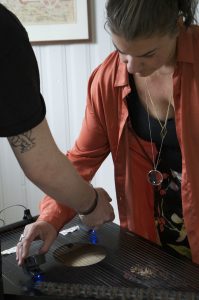 Read about some performances:
Oct 6, 2018, The Great Learning Orchestra performed "Orangerimusik/25 orange events" by Bengt af Klintbergs and "Den Svåra resan" by Öyvind Fahlström at the Art Museum of Uppsala.
June 15, 2018, Laurna Røde and Hannes Nilsson at Nääs Fabriker, Tollered, Sweden.
March 17, 2017, The Great Learning Orchestra played The Great Solar Eclipse by Christine Ödlund, at Folkoperan, Stockholm.
March 15, 2017, The Great Learning Orchestra played with JT Thirlwell at Södra Teatern, Stockholm.
June 14, 2016, The Great Learning Orchestra performed Cornelius Cardew at Erik Erikssonhallen, Stockholm.
May 14, 2 pm, 2016, Laurna Røde at the Opening of  the art exhibition "ljud jord träd gård" at Stallet in the Botanical Gardens of Göteborg, Sweden.
April 3, 2016, "Meetings im Ausland"  – Laurna Røde invited Ben Lauber to be our dear guest on electronics! The consert was supported by Konstnärsnämnden.

Nov 13, 2015, Laurna Røde at the festival Friktion at Atalante, Göteborg.
June 13, 2015, Gradation 2.0 – the second Gradation made by Anna Melander and Helena Persson was improvised at Bio Roxy in Örebro at a festival arranged by Musikspektra T, an association for electronic and electro acoustic music. Listen to Gradation 2.0 More about GRADATION.
Aug 19—24, 2014, Laurna Røde tour on Iceland (Höfn, Egilsta∂ir and Reykjavik)
Aug 31, 2013, Laurna Røde at Voices from the Waters Film Festival, Frilagret at Lagerhuset, Göteborg.
June 23, 2013, Laurna Røde with The Ikebana Contemporary Company lead by the director and choreographer Valentina Pomari. In this collaboration we performed Phobos in Via dei Fiori at Teatro Ristori, Verona, Italy.
June 20, 2013, Laurna Røde performs with dancers from the MOD Dance Academy, Ikebana Contemporary Company, Verona. The concert was the opening for the Italian designer Lamberto Petri at the Fashion Fair, Florence, Italy.
May 9 and 11, 2013, sound installation and live performance with four steel stringed acoustic guitars played with four EBows along with soundscapes. Performed by David Sabel and Helena Persson, at Verona Risuona festival, Verona, Italy.
March 23, 2013, Libration, Textival at Kristallbaren, Stora Teatern. A collaboration between butoh dancer and choreographer Frauke and Helena Persson.
Libration from Helena Persson on Vimeo.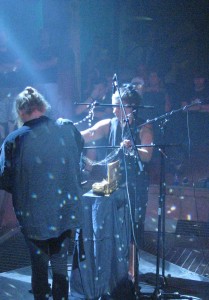 July 27, 2012, live performance with Siri Mandolini, Norbergfestivalen. The picture is taken in the mine of Mimer. The fragile and subtle sounds from bracelets and necklaces are unprocessed and picked up by four microphones.
Photo: Palle Dahlstedt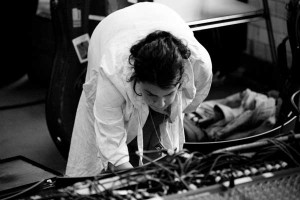 July 16, 2011, live performance with The Aachen String Theory, Energeticon, Aachen, Germany. The concert was recorded and resulted in a record release. Listen to the track!
May 22, 2011, Live Performance Brösarp, Ljudmatiné at Atalante, Göteborg
Listen to a sound scape made by Brösarp
Brösarp is a project between me and Dag Rosenqvist.