So happy to be part of this performance! Most welcome to Kägelbanan March 15.
Read more about the event on facebook.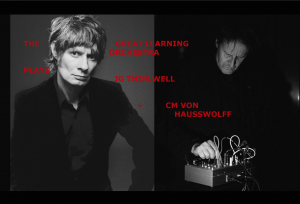 J. G. Thirlwell har skrivit ett stycke speciellt för The Great Learning Orchestra. Den 15 mars 2017 dirigerar han orkestern i uruppförandet!
CM von Hausswolff inleder kvällen med ett soloframträdande.
Plats: Kägelbanan, Södra Teatern.
Tid: Dörrar 19.00, konsertstart 20.00.
Entré: 120 kronor + serviceavgift 25 kronor.
Länk till evenemanget på Södra Teaterns webbsida:
http://sodrateatern.com/jim-thirlwell-the-great-learning-orchestra/
Kompositören, artisten och producenten JG Thirlwell kommer ursprungligen från Melbourne, Australien, men bor sedan tidigt 1980-tal i Brooklyn, New York. Han har gett ut över trettio album, ibland under pseudonymer som Foetus, Steroid Maximus, Baby Zizanie, Hydroze Plus, Clint Ruin och Wiseblood. En dramatisk intensitet och suggestiv, filmisk kvalitet kännetecknar Thirlwells musik. Thirlwell har producent och samarbetat med artister som Karen O, Noveller, Excepter, Zola Jesus, Melvins, Swans, Nine Inch Nails, Lydia Lunch, Coil, Nick Cave och många fler.
JG Thirlwell har skrivit musik för ensembler som Kronos Quartet och Bang On A Can, och han tillhör ljudkonstkollektivet "freq_out" tillsammans med CM von Hausswolff.
Han är just färdig med soundtracket till Tony Ourslers senaste filminstallation "Imponderable" som visas på Museum of Modern Art i New York.
Carl Michael von Hausswolff är född 1956 och bor i Stockholm. Sedan slutet av 1970-talet har CM von Hausswolff använt sig av inspelningsteknik som sitt främsta instrument när han komponerar. Han har uppträtt med sina verk på internationella festivaler i Barcelona, Berlin, Paris och Mexico City och en mängd skivbolag runt om i världen har gett ut hans musik. Bland CM von Hausswolffs många samarbetspartners finns konstnären Leif Elggren, filmskaparen Thomas Nordanstad samt kompositörerna och musikerna Hans-Joachim Roedelius, Mark Fell och
Jim O´Rourke. Den 15 mars 2017 kommer CM von Hausswolff att spela ett elektroakustiskt stycke med improvisatoriska inslag.
The Great Learning Orchestra är ett nätverk av drygt hundra musiker från olika genrer, städer och länder som möts för att utforska musik med lyssnandet i centrum. GLO har sin bas i Stockholm men samarbetar med tonsättare och musiker ifrån hela världen. The Great Learning Orchestra har framfört stycken som "Vexations" av Erik Satie, "In C" och "Tread on the Trail" av Terry Riley och Lou Reeds "Metal Machine Music" i samarbete med kompositören Ulrich Krieger. Orkestern har arbetat med kompositörer som Gavin Bryars och Arnold Dreyblatt. Hösten 2015 ägnade sig GLO åt en djupdykning i amerikanskan Pauline Oliveros ljudvärld under en serie konserter och workshops på Fylkingen i Stockholm.
Foto på JG Thirlwell: Marylene May.
Foto på CM von Hausswolff: ©2015 Feed/Sobejko; Berlin.