The Sounding Room is an experimental exhibition made by students from the Composition Program at The Academy of Music and Theatre in Göteborg. The installation Hovering Abode, made by Helena Persson and Eduardo Conceição (Berlin) is one of the pieces that will be presented at this exhibition.
Hovering Abode is an interdisciplinary experiment when it comes to both inspiration and expression. After seeing a drawing painted by the portuguese artist and architect Eduardo Conceição, Helena started developing her thoughts about the mobile life and its pros and cons, into a sounding scenario. The picture became the starting point of a correspondance built on pictures, photos, texts and words between the two of them. From this material a sketch evolved that later became an installation embodied in sound and architecture. Hovering Abode is a sounding sculpture, containing 6 speakers, surrounded by 4 speakers in a room. The sounds in the installation are field recordings.
Welcome to the Opening Cermony, Jan 18, 6 pm!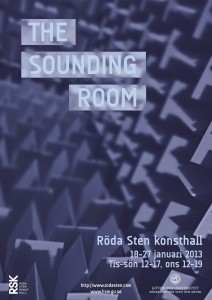 The Sounding Room
Jan 18, 6 pm, Opening Ceremony
Jan 18-27, Exhibition (Opening Hours: Tue-Sun, 12-5 pm, Wed, 12-7 pm)
Röda Sten, Göteborg, Sweden
Read more about the work between Helena Persson and Eduardo Conceição!